Humintech honored as leading innovator TOP 100 - 2017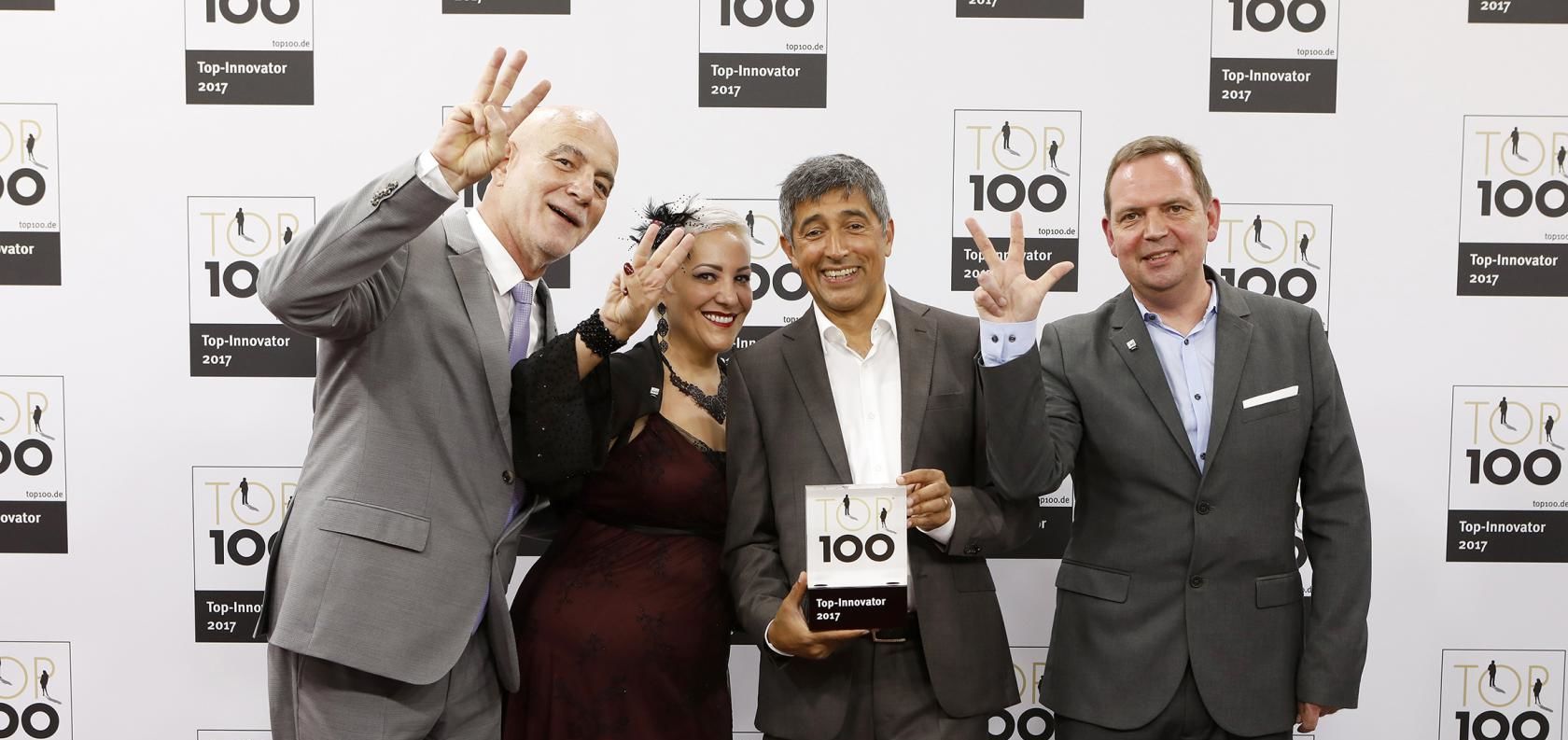 Once again, Humintech GmbH belongs to this year's leading innovators within Germany's mid tier. The Grevenbroich-based company is being honored with the TOP 100 seal by Ranga Yogeshwar, Prof. Dr. Nikolaus Franke and compamedia. This year, the award is being bestowed for the 24th time. Humintech has already been part of this innovation elite in 2015 and 2016, making this year's honor the third in a row. A mayor asset in the independent selection process was the company's outward orientation.
Hardly any natural resource has such a bad reputation as brown coal. In times of climate change, the days of fossil fuels seem to be numbered. Yet, Humintech is aiming for another direction. "We've been approaching brown coal ideology-free. In doing so, we've uncovered the huge potential of that resource", says Berthold Stern, R&D manager with Humintech. The idea: Humintech is obtaining humic substances from oxidized brown coal or lignite. These substances are being used in agriculture as soil conditioners, manures or animal feed. Industrial uses include, among others, the manufacture of filter materials, dyes and concretes containing humic substances.
"Our technology opens up new possibilities for fossil resources", says executive Manager Aydogan Cengiz. His co-partner Müfit Tarhan adds: "We're presenting an old natural resource in a new, proper light and thus creating new acceptance." To master Germany's proclaimed u- turn in brown coal utilization, the bioengineers at Humintech are banking on intensive cooperation with various research facilities. Together with German Forschungszentrum Jülich, they explore in-depth how humic acids can be used to curb nitrate pollution in ground water. Other cooperations arise from the company's engagement in the "Innovationsregion Rheinisches Revier", an initiative to support and shape healthy structural change in the Rhenish coal district.
Success shows that Humintech is on the right track. Within the past two years, the staff number has more than doubled. Today, 49 employees are driving the development forwards. Therefore, it's no surprise that the SME is being honored with the TOP 100 seal for the third time already.