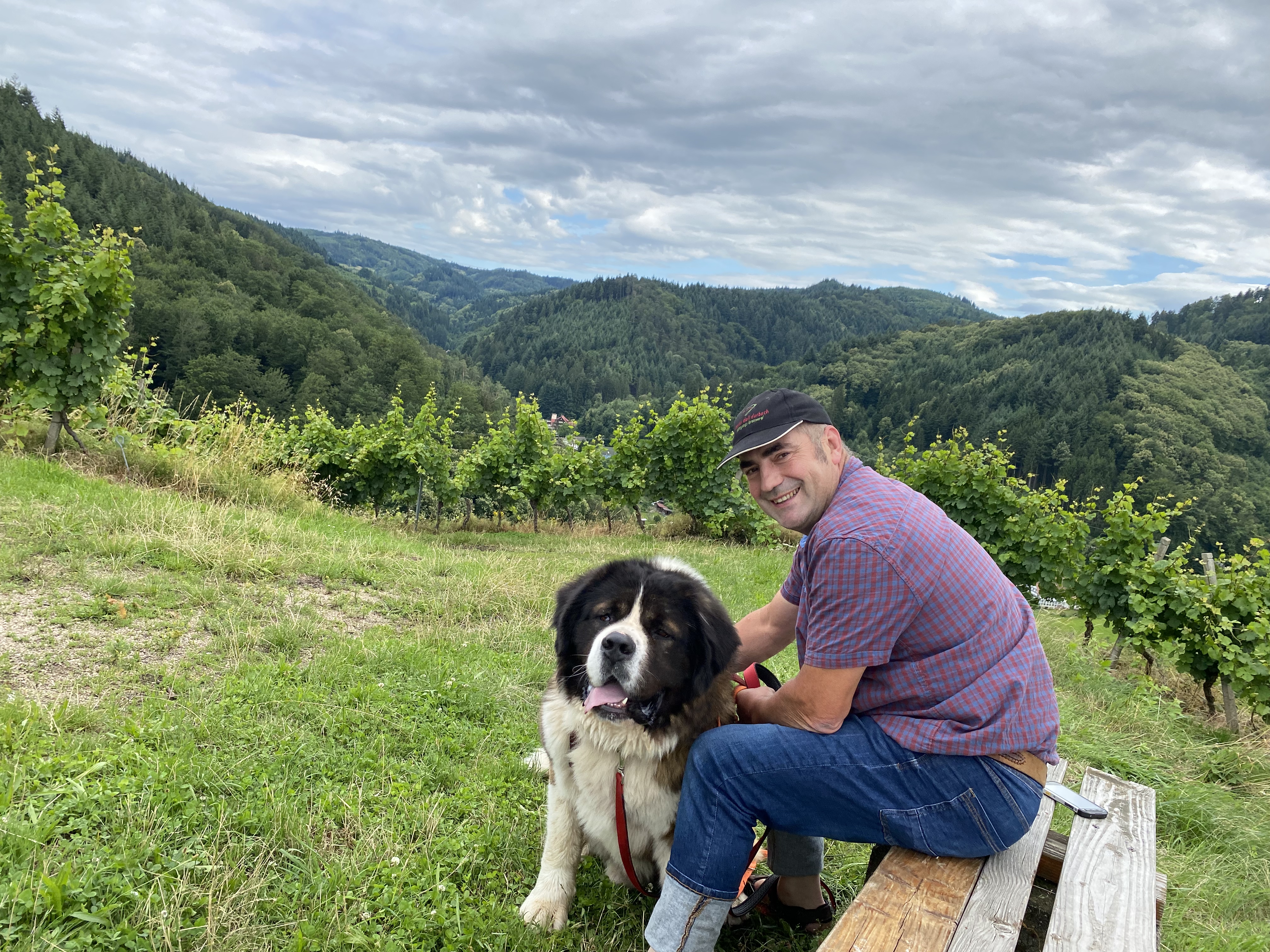 Granite meets Humus
Applied soil love for German quality wine and spirits
For Humintech, Jan Mühlena visits Martin Doll, who runs a distillery for quality liqueurs in the beautiful Durbach near Offenburg. Moreover, he is growing wine grapes on the sunny steep slopes of the western Black Forest. Various kinds of fruit grow in the valley for his exquisite brandies.
Jan Mühlena: Mr. Doll, thank you very much for your time. Let's start with the company: How long have you been around?
Martin Doll: We are a fourth-generation winery.
Jan Mühlena: And how many hectares do you farm?
Martin Doll: We have around 7 hectares of vines, 2 hectares for strawberries, 1 hectare of table cherries and 3–4 hectares of fruit for distilling, for example Williams pears. And some more forest for Christmas trees. A classic mixed farm, so you always have something to create.
Jan Mühlena: Which of these is less costly and which is more maintenance-intensive?
Martin Doll: There is still a lot of catching up to do here in terms of technology. Out of the 7 hectares of vines, I have about 3 hectares of steep vineyards, where you can't really do anything with a tractor, you can only do it with a steel cable. There we have a slope of 40 degrees, that is 70 percent, with natural stone walls in between. That's actually more of an expensive hobby than making money. My generation is still doing it, but we'll have to see how it looks after that. Plant protection is practically the biggest job on the steep slopes, because it is time-bound. I have to get going again today if the weather cooperates. The strawberries are mostly done by the strawberry pickers.
Jan Mühlena: How many seasonal employees do you have there?
Martin Doll: At the moment there are 10 pickers from Poland and Romania.
Jan Mühlena: Were there any effects due to the pandemic?
Martin Doll: The workers were actually always there when I booked them. Sales from the winery have changed though, from direct sales it went to retail, where the margins are smaller. We will feel this in the next few years.
Jan Mühlena: In the region, there is a party here and there almost every two weeks, where people get together and drink wine, but that has all fallen flat now. Did the wine consumption go down?
Martin Doll: Well, in our company we have sold just as much wine as before, but under different conditions. People now buy the bottle of wine in the food retail trade instead of in the specialized trade and drink the wine at home. The specialist trade is dying, all over Germany. Meanwhile, every retailer installs a wine assortment, with a nice ambience, at a reasonable price, but you can imagine the conditions we as vintners get then. We have also pushed direct sales via the internet a little bit, especially for the schnapps, but that also takes a lot of work, it's not a self-runner. The products have to be advertised first.
Jan Mühlena: The gin, that's a fine one, I've already ordered it. It's really good.
Martin Doll: Yes, it's not going badly with the mail order business either. We've been doing that for 15 years now, so we have a regular clientele.
Jan Mühlena: You have now used PerlHumus in the strawberries - it is now being added to the soil in the wine - what do you hope to achieve?
Martin Doll: Simply an additional humus supply - and to improve the soil structure in the long term, so the next 10-15 years. We also want to be better prepared for dry spells like the ones we experienced in '18 and '19. I did approve a well because I have since had to haul water in from the valley tank at great expense. When it's that dry, and I need 6 gallons per stick, I have 30,000 gallons per acre - and I farm 7 acres by myself. How am I going to drive that? Without a pump, actually it's impossible. Also the drip irrigation in the strawberries is enough effort, because I have to control it every day.
Jan Mühlena: Yes, we should take advantage of this to make rainfall usable for a longer period of time by improving the water retention capacity of the soil. The soil cover then additionally reduces evaporation. What are the priority soils here?
Martin Doll: Here the zone in front of us is divided into granite weathered soil, which was formed by the subsidence of the Upper Rhine Graben, with a thickness of up to 10 meters. In the lower area there is sandstone and up ahead in the valley we have loess soils with a pH value of 7.5. Behind us there is acid soil, low in magnesium, low in humus.
Jan Mühlena: You can see that, here in front of our feet, for instance, the granite stones, or this almost coarse sandy subsoil made of granite. So, a mineral ground for the wine. Is this good for the wine and if so, why?
Martin Doll: That's why it grows here, because it works great. A typical mineral Riesling - a quality wine.
Jan Mühlena: And so you have the combination of a good minerality in the soil and humus. Why is it so important to have humus in the soil for a quality wine?
Martin Doll: These granite soils are permeable to water and shallow in part. There, the vine immediately goes into deficit in summer, if it doesn't rain for four weeks. The vines don't have to stand in water all year round, but it has been shown over the past few years that it works better where there is humus in the soil.
Jan Mühlena: That means that the water retention capacity is improved. Air supply is not a problem in your soils. Have you noticed a better mineral uptake with more humus in the soil?
Martin Doll: Yes absolutely. 3 percent humus is certainly not a mistake.
Jan Mühlena: Now I have to ask again specifically: what do you fertilize and how much per year?
Martin Doll: So normally we go to the 70 N in young sites, in one application. Calcium cyanamide most of the time. In the past, I used N-Tech, but we had a couple of failures with that - the nitrogen didn't come in the spring because of the drought, but then it came in the fall when it wasn't supposed to be there. Calcium cyanamide comes leisurely with the temperature and is then already gone in the fall, which is top. Some complain, however, that soil organisms die after the administration.
Jan Mühlena: If you work a lot with humic substances, these problems are somewhat mitigated; a higher buffer capacity in the soil, support of soil life and you get by with less fertilizer.
Martin Doll: That's good.
Jan Mühlena: If you had one wish for agriculture, what would it be?
Martin Doll: For agricultural policy, I would like to see less lip service and more real, implementable solutions. At the same time, consumers want more animal welfare and more sustainability, but they still want to buy cheap; there's just pressure coming from the top, in the name of votes. Some of the farms around here have also put up green crosses as a cry for help. Farmers have relatively little money for all the work they do anyway. Any farmer who would put his commitment somewhere else could earn many times that. And you can see that now with the youth: for over 10 years we have had only 2 apprentices every year, where it would take 20 to ensure farm succession. Some even learn in the agricultural sector, agricultural machinery mechanics or in agricultural specialist companies, but the work mania of the farmers' sons is so in demand, they get a good salary in no time and never come back.
Jan Mühlena: I also know it from the vegetable farmers, it's exactly the same there. If the remuneration here in viticulture or in the agricultural sector was the same – then they would be more likely to work here again, because it also has to do with passion, doesn't it?
Martin Doll: Yes, of course, but I don't see that coming. There is this double standard, you want to strengthen the farmers, but at the same time you conclude trade agreements with South America so that they can bring their beef here for little money.
Jan Mühlena: Yes, I see. This region here, but also viticulture in general, how do you see them in 30 years?
Martin Doll: I think a few sites will remain where it is difficult to manage. It will probably be more concentrated on the locations where you can secure daily. In a good, foreign-traffic-driven community, the bad location would also still be maintained, for appearance's sake. There will certainly be corners that will just grow over. This is not only the case in the wine-growing area, I think it is the case for the whole Black Forest. There will certainly be changes in the use, less wine, Christmas trees or goat husbandry instead, but the farms will probably not die out completely.
Jan Mühlena: Are you active in social media?
Martin Doll: Very little. Operationally we do a little bit, every now and then a photo on Instagram, but you could do a lot more. It's great for online marketing in particular, but I don't have the time or the will. My kids aren't ready yet, but let's see, maybe they'll do something in the future.
Jan Mühlena: I am sure that solutions will emerge. We wish you all the very best, for you and the region! Mr Doll, thank you very much for the interview!