A Piece of Company History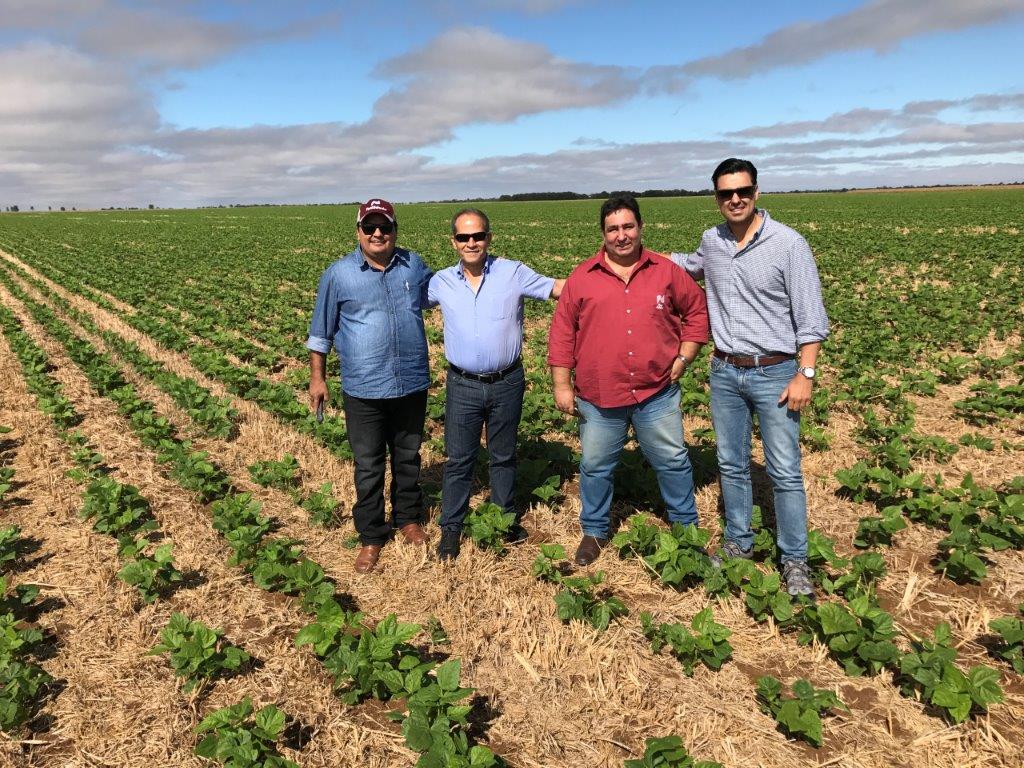 A Piece of Company History
From being a Pioneer in Mushroom Cultivation to an Expert in Humic Substances and Plant Nutrition. Insights into Sales Management and Product Development at Humintech.
Going new ways
"Which current developments excite me the most? One is the use of drones for field observation, fertilizing or even harvesting. The others are alternative substrates and soilless crops, as well as crops without substrates – such as hydroponics, fishponics and aeroponics. As a plant nutrition specialist, I am being contacted more and more about this. It is amazing to see 7 or 9 tiers of strawberries being fed in one room using only the hydroponic system. This is part of the future, and I would like to help shape it.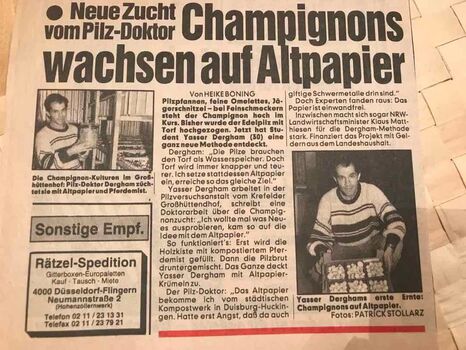 Alternative substrates inspired me already in 1989–1994 to the topic of my doctoral thesis, at that time I was doing research at the University of Bonn on composted waste paper as a substitute for peat (cover soil) in mushroom cultures and I continued to work on this beyond my doctorate – a total of just over 8 years as the director of GAMU GmbH (Society for Applied Mycology). 15 publications have resulted from this. After that, I founded a research company, MykoMax, with former research colleagues. Mycorrhizal research was instrumental in the activities of the MykoMax company; at that time we developed our own mycorrhizal inoculum. We were a handful of scientists, and we wanted to know what was possible in the agricultural sector if we left the familiar paths of thought. And today that's more exciting than ever."
How it all began
Before 2000, HUMINTECH was still called WESKO and distributed no more than PERLHUMUS®, POWHUMUS® and LIQHUMUS®. Dr. Yasser Dergham still was the business manager of MykoMax GmbH for research in agricultural science. After first joint trials in 2001 for product validation, Dr. Dergham started working as a freelance consultant for HUMINTECH in 2002. In 2004, he sold his shares in the company and joined in full. Since then, much has happened: all products currently under the HUMINTECH name have been formulated, developed and improved with his help on the Humintech team.
Today, HUMINTECH GmbH distributes its products in about 70 countries worldwide. Of these, customers in about 35 countries are served directly and the rest indirectly by Dr. Dergham – some for nearly 20 years. North Africa, the Middle East, Asia, Ukraine, England, Ireland and Greece fall within the remit of the Syrian-born doctor of agricultural sciences. The short wire and the regular personal talks characterize what HUMINTECH has stood for from the very beginning.
No time for boredom
"We would like the customer to come back, not the product," he says, laughing. "I still learned that marketing means asking, 'What does the customer need?" and never trying to force something on them that they don't need. The customer is my partner, giving me important feedback on what to look for in product development or how to make the application even better."
Technical support is available in German, English, French and Arabic at trade fairs and from the desk, and the consultations and workshops often take place directly in the field. Every two years, for example, there are HUMINTECH WORKSHOPS taking place all over the world. LATAM serves all of South and Central America, ASIA HUMINTECH brings together the 9 largest Asian customers from Malaysia, Korea, China and Thailand and other East Asian countries, MEDITERRANEA focuses on agriculture in North Africa and Southern Europe. In between, there are trade show presentations as well as lectures on humic substances or biostimulants, specialized training on individual crops and online seminars for the introduction of new products.
Effect to the power of three
Asked about his favorite products, he answers promptly: "BioHealth®, POWHUMUS® and HUMICRAFT®. My customers are always enthusiastic about them because they see an effect immediately. Especially with HUMICRAFT®, the three biostimulants humic acid, seeweed extract and amino acids amplify each other in such a way that the effects not only add up, but multiply."
Recently, POWHUMUS Pro® and BioHealth Myco® were presented in an online seminar with about 60 customers from Saudi Arabia, Egypt and Jordan. Next, they will be presented in the Asian region and then – virtually – in Brazil.
Always after the sun
Before that, Dr. Yasser will accept the invitation to Djerba in Tunisia, where the AFSTA seed trade show will be held at the end of February (28.02.–03.03.22). After visiting customers in Tunis, he will return to Germany, where a workshop and a production tour are planned for a dozen customers from Ukraine. Dr. Dergham will visit FRUIT LOGISTICA in April (05.-07.04.22) together with colleagues from HUMINTECH. This will be followed in May (5/24-27) by the HORTI ASIA FAIR in Bangkok, Thailand. Dergham will add another day for customer questions and exchange, because the last time he was in Asia was three years ago – thanks to the pandemic.
Agriculture remains practice
"Of course, it's always better when we're there in person. I'm glad that traveling has become possible again. Agriculture is hands-on – and that will never change. Our customers have had many challenges the last 2 years; logistics, extreme weather, market fluctuations. At least the cultivation should work. The new products BioHealth Myco® and POWHUMUS Pro® contain all my experience and enthusiasm of the last 25 years. It makes me happy to show the products and possibilities on the ground, that's what makes my job for me."