Humintech at CAC 2018 in Shanghai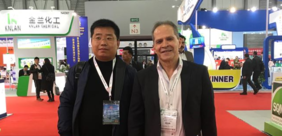 Since 18 years, annual China International Agrochemical & Crop Protection Exhibition (CAC) attracts more than 4,000 agrochemical suppliers and industry professionals from all over the globe.
The Shanghai based exhibition serves as a platform for agrochemical trade, exchange and cooperation in the field of pesticides, fertilizers, seeds, non-agricultural drugs, production and packaging equipment, logistics, consultancy, laboratories and supportive services.
Humintech's Technical and Sales Manager Dr. Yasser Dergham is representing the company at CAC 2018, joining forces with our partners of Fertiliz from Beijing. We're looking forward to three interesting and productive exhibition days and are happy to meet you inside Shanghai New International Expo Center!
Pictured (f.l.t.r.): Li Yongqiang (Fertiliz), Dr. Yasser Dergham (Humintech)