Lignite is too valuable to burn them.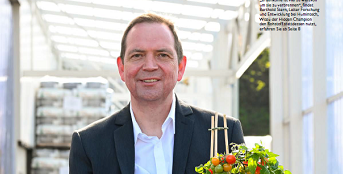 The story of a literally hidden champion takes place in a world of its own: At the edge of the 11,400 hectare mining area of the Garzweiler open cast mine near Jülich, a small biotechnology company is about to add a new, exciting and surprising chapter to the history of lignite. After all, who would associate the raw material, which as an energy source should not have a too long future in Germany, with innovative and ecological exemplariness? But this is exactly what Humintech is all about. The roots of the company go back to the 1970s, when the then Rheinbraun AG and researchers at the University of Bonn were looking for an environmentally friendly and sustainable method of renaturing the post-mining landscapes in the Rhenish mining district. The result of these efforts was Perlhumus, an organic soil conditioner based on weathered earthy brown coal.
The experts at Humintech extract a whole range of products from this material, the so called Leonardite, which RWE makes available as the operator of the opencast mine: as fertiliser substitutes, as plant strengtheners or as animal feed supplements, for example. The company is represented in more than 70 countries and uses platforms such as IPM Essen, the world fair for horticulture, to expand its market position. For Berthold Stern, Head of Research and Development at Humintech, the areas of application to date are just the beginning: "Brown coal is far too valuable to burn," he says. However, applied research is needed to discover the potential. "There's more to it than that."
Berthold Stern,
Head of Research and Development at Humintech
Report in German