Biocontrol and New Ag International conferences 2018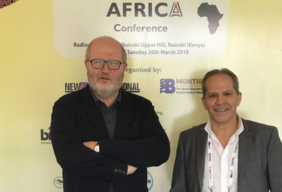 Africa in focus — one week, two international agricultural conferences in Nairobi, Kenya: Biocontrol Africa (March 19th–20th) and 16th New Ag Conference & Exhibition (March 21rst–23rd) are attracting agricultural operators and specialists at top executive level from more than 60 countries worldwide.

This year's major topics include irrigation, specialty nutrition, fertigation, biostimulants, biocontrol, greenhouse technology and precision agriculture. HUMINTECH is represented at the conferences by CEO Müfit Tarhan, Technical and Sales Manager Dr. Yasser Dergham and Areal Manager Vicente Jaramillo, contributing their knowledge and experience in the use and effects of humic substances based products on soils, crops and livestock.
Pictured f.l.t.r.: Müfit Tarhan, Dr. Yasser Dergham