Minister, Prof. A. Pinkwart,
visited Humintech GmbH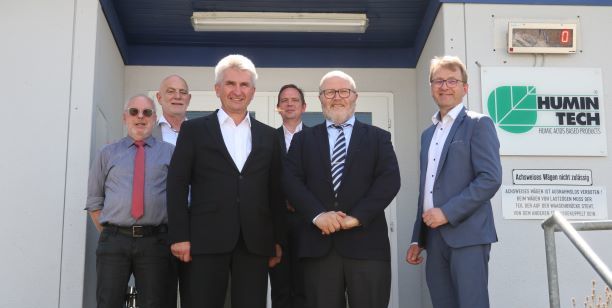 From lignite to organic fertilizer
On July 23, Minister of Economics and Energy, Prof. Andreas Pinkwart, visited Humintech GmbH in Grevenbroich. Subject of the visit was the material use of lignite and how to secure the demand for raw materials in the region. As the biotech company is a member of ZENIT e.V. network and maintains close contact with the consultants in Mülheim, ZENIT Managing Director Jürgen Schnitzmeier was also present.
HUMINTECH GmbH is one of the oldest and leading companies in the humic substance sector and sees its main focus in the research, development and industrial production of humic substance-based products for agriculture. In practical terms, this means the conversion of weathered lignite (Leonardite) into organic fertilizers and soil conditioners.
HUMINTECH intends to continue doing this even after the foreseeable phase-out of coal-fired power generation. The problem is not lignite itself, but only its previous use as an energy raw material. Müfit Tarhan, Aydogan Cengiz and Berthold Stern called on Minister Pinkwart for a change in mining laws, so that even after the end of the classic large-scale opencast mining operations, it would still be possible to extract much smaller quantities of raw material with far less impact on the environment.
There is a worldwide demand for the environmentally friendly, humic substances-based organic fertilizers and soil improvers, which are also used as a means to reactivate leached soils or to detoxify arable land. The customer list includes importers from 67 countries who contribute to a turnover of more than ten million Euros. The worldwide demand for HUMINTECH products secures jobs and apprenticeships in the region and has led to the continuous creation of new workplaces since the establishment of the company in Grevenbroich.
Minister Pinkwart suggested submitting project proposals to develop further possible fields of application for Leonardite. He was impressed by the already existing advantages of Humintech products: less artificial fertilizer on the fields, less use of chemicals, less groundwater pollution and a generally improved climate balance. He also sees future developments as an opportunity for structural change in the Rhineland region.