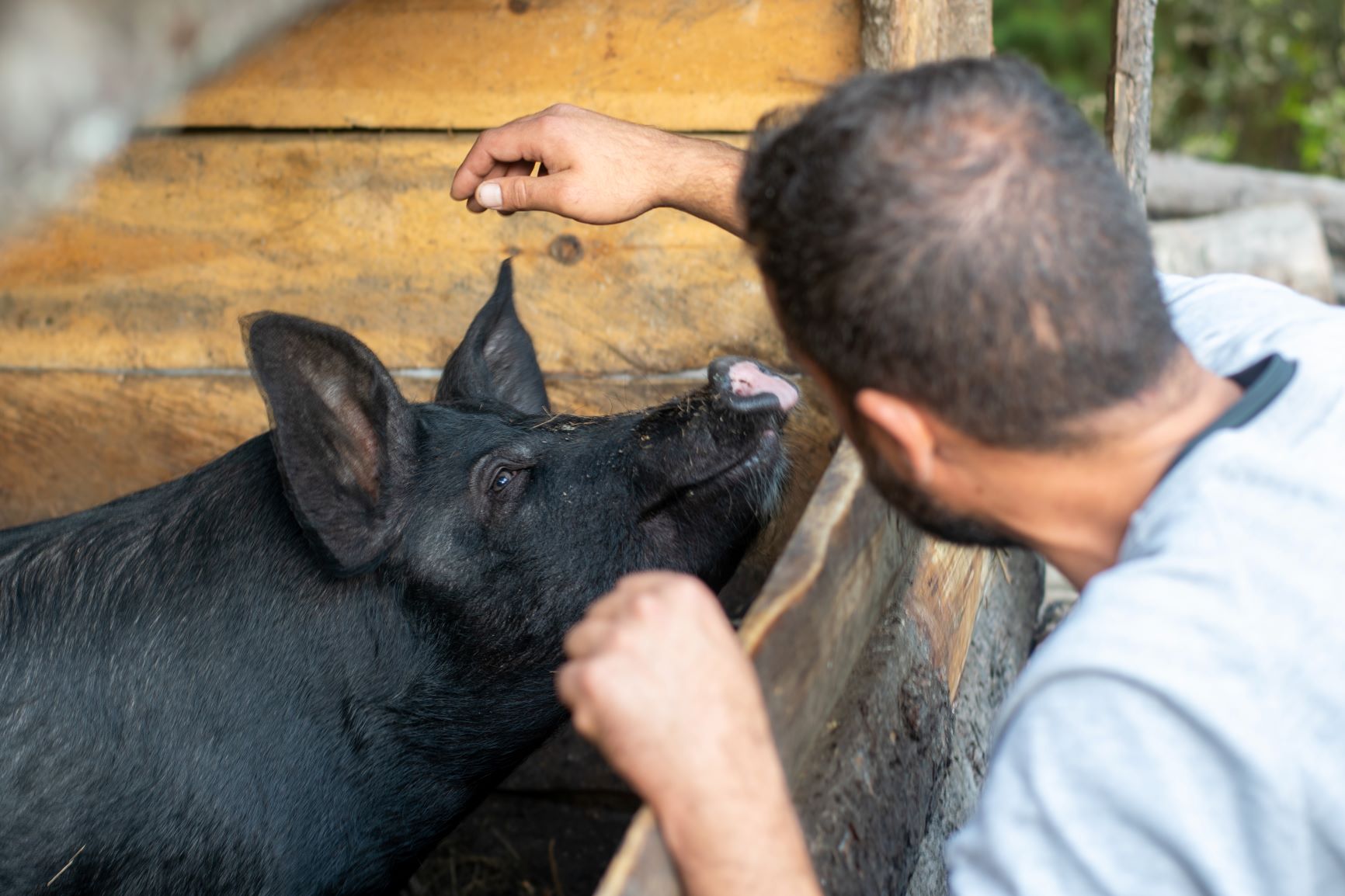 50 percent by 2030?
How humic substances can sustainably reduce the use of antibiotics

- Humic acids have been successfully promoting intestinal health in farm animals and increasing their resistance to abiotic stress factors for over 40 years.
- Fulvic acids strengthen the immune system of fish and thus reduce the use of antibiotics.
Healthy intestines, healthy animals – humic acids in livestock farming
The advantages of humic acids as feed additives are obvious. They block various viruses, have an antibacterial and anti-inflammatory effect and have complex effects on the intestine. In addition, they detoxify the body by binding toxins, which are then excreted. In this way, humic acids improve the general well-being of the animals and ensure greater resistance to stress and disease.
Fulvic acids for vital fish
The use of fulvic acids has proven itself especially in fish farming. They can be taken up both through water and feed and activate the white blood cells in the fish body. The result is a strong immune system and increased stress resistance.
Humic substances vs. antibiotics
Humic substances as a holistic-preventive alternative to antibiotics are not only important with regard to the Green Deal and increasing antibiotic resistance. They are of natural origin and leave no harmful residues or immunological after-effects in the body. The application is completely harmless.
The European Green Deal and animal health
50 percent less antibiotics are to be sold for livestock and aquaculture by 2030. Many farmers now fear for the health of their animals and for their livelihood. And rightly so. The risk of infection is particularly high in large livestock populations. Without medication, it is hardly possible to counteract the mass sickness of the animals. But what would happen if the animals did not become ill in the first place? Humic substances in animal feed ensure a healthy intestinal flora in farm animals and pets and thus strengthen their immune system. In this way, they prevent disease infestation and reduce the need for antibiotic treatment in advance.
Humic substances - remedies from nature
In all ecosystems, humic substances are produced by decomposition and conversion processes of organic material and the activity of microorganisms. Especially valuable humic compounds are found in the near-surface layer of soft lignite, called Leonardite. They consist among other things of humic acids and fulvic acids. For decades they have been successfully used in human and veterinary medicine, for example for the prevention and therapy of intestinal diseases.
Humic substances hold a real chance to significantly reduce the use of chemical therapeutics such as antibiotics in the future - without losses and with many positive effects for humans and animals.

Have we aroused your interest? In our press area you will find extensive material in text and pictures for download. We would be pleased if you would like to contact us personally, e.g. in response to this mail or by telephone.
Your contact person at HUMINTECH:
Mrs. Canan Aker
pr@humintech.com
Phone: +49 (0)2181 70 67 630
Thank you very much for your attention!