HUMINTECH at EuroTier 2018 in Hannover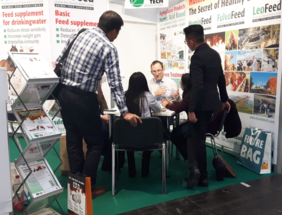 HUMINTECH's Livestock Product Manager Mr. Daniel Molnar and R&D Manager Mr. Berthold Stern were participating in this year's EuroTier fair in Hannover, Germany. EuroTier is said to be the world's largest trade fair for animal production.
HUMINTECH's animal breeding assortment includes humic acid based organic solutions to common problems in animal breeding: Humic acids can be successfully used as an additive in animal feed. Various research trials conducted worldwide have all showed positive results concerning the use of humic acids as an organic feed ingredient. Increases in liveweight of animals, improved growth rates, increased feed intakes and food conversion ratios and a stronger resistance against diseases are the common results of these trials. By improving immune function of animals, especially of young animals, humic acids also reduce the incidence of enteric disease and diarrhoea.
If you want to learn more, please surf to www.humintech.com/livestock-breeding/applications/animal-breeding.html.